About us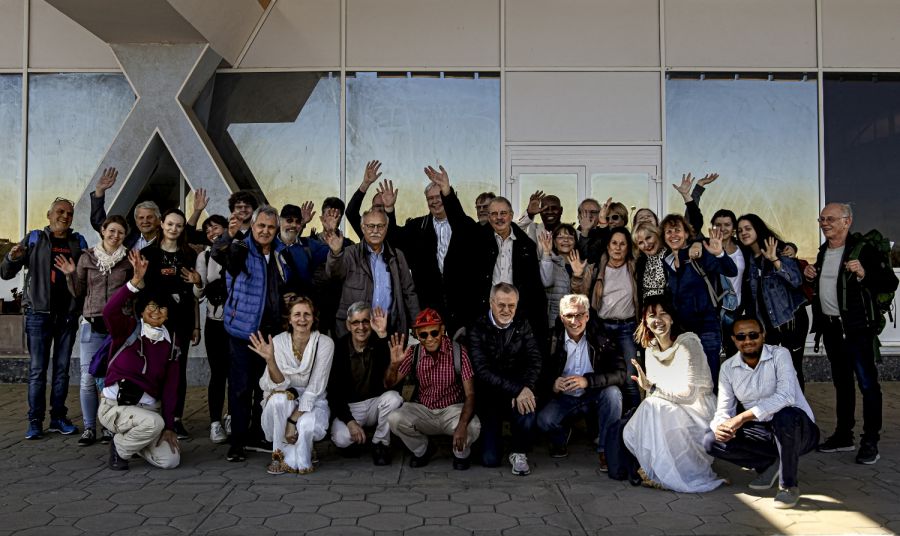 Arrival in Mekelle 2020 (Etiopia-Witten German Week)
Our objectives
Our objectives
Etiopia Witten's primary objective is still to support Ethiopia's health services. Support for Education in rural areas and the development of town infrastructure has broadened the spectrum of activities.
Unlike most other humanitarian organizations, our aid is structured in projects which are supported from beginning to end.
We start by identifying locally where our help is needed. We then assess whether our association can provide it. The next step is to overcome any obstacles due to red tape, etc. Followed by the recruiting of specialists willing to come to Ethiopia, and the arrangements for the financing, e.g. of shipping costs.
We collect urgently needed relief supplies for the projects, e.g. medical equipment, school furniture, or firefighter equipment, to be shipped to Ethiopia. At this point, the involvement of many relief organizations stops. We, however, take delivery of the donated equipment on location, facilitate its correct installation and ensure everything works properly. We train local staff in the operation of the equipment and are always available for technical, educational, and medical support.
Complex and long-lasting medical and structural projects are supported by grants and supporters from Germany (e.g. planning and installing Interventional Cardiology, programs for the prevention of rheumatic fever in rural Etiopia or constructing and furnishing rural elementary schools inclusive electricity and basic computer rooms)
2. Who is Etiopia Witten?
The association Etiopia Witten was founded in 2008, following the visit to Ethiopia by a group of doctors led by the Ethiopian-born internist Ahmedin Idris.
The members of our board are Christian Leuner MD (chairman), Ahmedin Idris MD, Jürgen Jeremia Lechelt(vice-chairman), Karl-Heinz Franz MD (treasurer and secretary). Theo Püplichhuisen, former chief administrator of the Marien-Hospital in Witten, is the press officer. Lea Stanke is a board member with special tasks/youth. Frank Koch MD is a retired internist, former chairman, now honorary chairman, and advisory board member of Etiopia-Witten.
The board is supported by an advisory council. Members are Birgit Bechara, Prof. Dr. Matthias Hoffmann MD, Marina Idris MD, Christian Kost, Helga Mönks, and Regina Rüssmann.
The numerous activities are coordinated by the association's board and made possible by the dedicated and selfless work of the members of the association and many other supporters.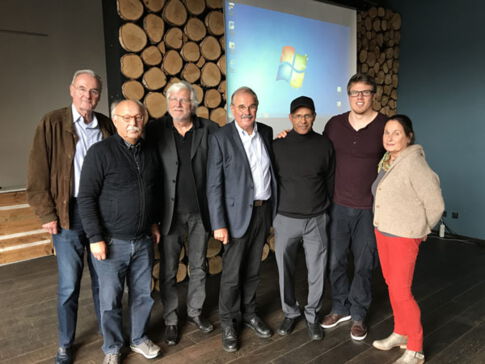 3. Where are we based, and how do we work?
Our work is split between Germany (finding, collecting, approving, and shipping of donated equipment; recruiting of experts) and Ethiopia. Our first project was the Bishoftu hospital in Debre Zeyt. The hospital, a prison before its 1988 conversion, is located 47 km (30 miles) outside the capital Addis Ababa. It serves as a regional hospital covering a catchment area with a population of approximately 5 million. Since 2011 we have left Bishoftu hospital because of lack of acceptance and focused our activities on the capital for the northern Ethiopia province Tirgay, the town of Mekelle, and its Ayder Comprehensive Specialized Hospital - College of Health Sciences- Mekelle University. There we had a wider field for support in very different medical specialties and found a very interested and cooperative highly motivated staff. We financed and imported new and second-hand medical devices and equipment for intensive care units, conducted medical workshops and lecture series there, and supported the reorganization of the hospital administration. Besides this step by step we financed and organized the construction of rural primary schools in poor areas in close cooperation with local institutions.
4 Why Ethiopia?

There are many places where help is needed. Ethiopia is one of the poorest countries in the world. It ranks 17th out of 182 on the Human Development Index. Ethiopia has a special status in Africa. The capital Addis Ababa is also home to the African Union, a significant organization for the continent.
The political situation is relatively stable compared to most African countries and the health administration is cooperative and very interested in our work. Even during the current time with local unrest. So far, projects carried out in this country can be exemplary for all of Africa. Europeans feel connected to Ethiopia, not least because of the country's centuries-old Christian tradition and its good relationship with other religions. The climate in northern Ethiopia, the region where Etiopia-Witten is currently active, is particularly prone to prolonged stays due to the mild temperatures and low risk of malaria.
In Ethiopia, there are in 2019 about 8,000 physicians for a population of now about 105 million which means one physician for 13,000 persons. In Germany, the number of 82 million people are being cared for by well over 400,000 physicians, that means one physician for 20 persons. So, there is much to do for the Ethiopian health system to cover the medical needs of the population.
To support this suffering country, many retired or even active medical specialists and nurses who live in the city of Witten and other places in Germany are coming to Mekelle for many years during the "Etiopia-Witten German Week" to provide workshops and lectures. Some of them who are engaged in special projects in Mekelle come several times a year.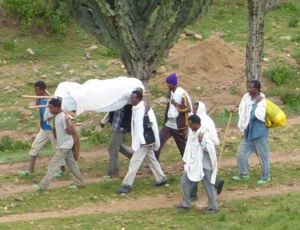 People behind Etiopia Witten e.V.
Christian Leuner MD (chairman)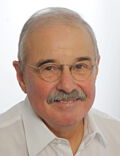 Lives in Bielefeld. Since October 2017 chairman of Etiopia-Witten. Retired senior physician at the Klinikum Bielefeld. Since 1982, experienced interventional cardiologist, echocardiography and intensive care medicine. Since 2013 he is supporting the setup of the cardiology unit with a new heart catheter laboratory at the Ayder University Hospital in Mekelle - Ethiopia. He is involved in further development aid projects in the field of cardiology in Ethiopia. Since 2016 chairman of Etiopia-Witten and Webmaster of the website www.etiopia-Witten.de. Visits Ethiopia several times per year.
Ahmedin Idris (vice-chairman)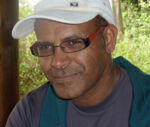 Initiator of the foundation and vice-chairman of Etiopia Witten.
Born and raised in Eritrea, medical training and residency in Germany, set up practice as an internist in Witten in 1993.
Since many years of involvement in aid initiatives for Eritrea and Ethiopia. Member of Hammer Forum, a medical charity supporting children in conflict areas since 1991. Expert for fundraising and transport arrangements. Thus organizing the funding and construction of primary school buildings and equipping in rural areas in northern Ethiopia.
praxisidris@online.de
Jürgen Jeremia Lechelt board member)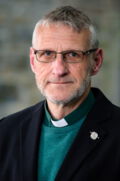 Deacon, educator
Addictive caregiver, nurse
Member of the Board since 2019 and member of the Advisory Board of Etiopia-Witten for several years. Deacon, educator, addict supporter, specialized nurse. Work as a pastor at Knappschafts-Krankenhaus Bochum. As an association member of FairBunt Witten e.V. and a member of the Bürgerforum Witten (competent citizen in the City Council of Witten), he has extensive contacts for the further development of cooperation between the City of Witten and the support of the relief efforts of the Etiopia-Witten Association. He visited Ethiopia with the association Etiopia-Witten.
Dr. Karl-Heinz Franz (treasurer)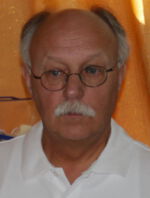 Set up practice as internist and lung specialist in Witten in 1984.
Member of the first Ethiopia 'expedition' in 2008, founding member and treasurer of Etiopia Witten.
Many years of involvement in Third world charities, e.g. Cubahilfe Bochum, Hilfe für Mali. Travel to various countries affected by medical shortages and famine-related problems in Asia and Africa.

franz@etiopia-witten.info
Theo Püplichhuisen (press officer)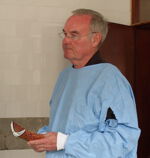 Etiopia Witten's press officer.
For many years, chief administrator of the Marien-Hosiptal in Witten.
Since his retirement, he has worked for the Senior Experten Service in Bonn, a pool of retired expert volunteers offering their skills to others, both at home and abroad. Worked on nine aid assignments in Asia and Africa.
Expert for organization and administration.

theo-pueplichhuisen@t-online.de
Lea Stanke (board member with special tasks / youth)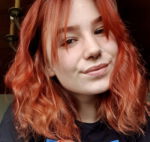 Since October 2019 member of the board of Etiopia-Witten for special tasks with focus on young people.
Since 2018 student spokeswoman of the Holzkamp Comprehensive School in Witten, aspires graduation from high school.
She has been involved in student self-management for years and supports the interests of classmates.
She collects donations for Etiopia-Witten at events.
She was during the "GermanWeek" in 2019 for the first time in Mekelle -Ethiopia and wants to be there again in the next years.
Dr. Frank Koch (honorary chairman - advisory board member)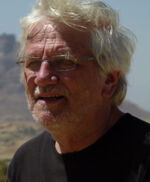 Internist in his own praxtice in Witten since 1975 .
Founder and initiator of a number of cooperative projects in the medical sector, some of which he chairs (ÄQW, Ärzteverein Witten), Witten city councilman, Member of the Order of Merit of the Federal Republic of Germany.

Founding member and past first chairman of the charity Etiopia Witten. Travel to various former Eastern bloc countries and Asia. Numerous visits to Ethiopia as part of the charity's humanitarian aid projects.
Expert for fundraising and networking.

dr.f.e.koch@gmx.de
Prof.Dr.Dr. Matthias Hoffmann (advisory board member)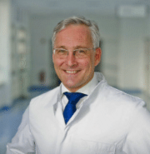 Since 2019 member of the advisory board of the association Etiopia-Witten. Chief physician for abdominal surgery in the Rafelsklinik in Münster. Since 2013 with Etiopia-Witten annual visits and surgical courses at Ayder Hospital in Mekelle. Focus of training of Ethiopian physicians in the surgery of pancreas and liver, as well as thyroid and laparoscopic operations. Involvement of surgeons in the International Hepatobiliary and Pancreatic Association with formation of an Ethiopian Chapter. Extension of the training program to the hospitals Black Lion and St. Paul's in Addis Ababa.
Birgit Bechara (advisory board member)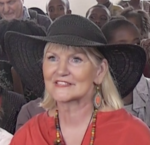 Founding member, member of the advisory board of Etiopia-Witten. Engaged in the field of school construction for Ethiopian elementary schools in rural areas for many years.
Marina Idris (advisory board member)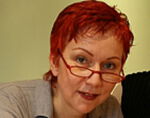 Long standing member of the advisory board of Etiopia-Witten. MD for gynecology and obstetrics in own practice in Witten town. Wife of Ahmedin Idris. She has extensive knowledge of Ethiopia through numerous travelings and longer stays in the country. Since the foundation of the association Etiopia Witten she is active on all levels for its development.
Christiane Kost (adisory board member)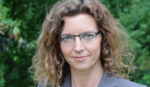 Member of the advisory board of Etiopia-Witten since 2019. As a psychotherapeutic psychologist with hospital experience working in many fields, since 2016 she regularly advises the psychiatrists at the Ayder Hospital in Mekelle as part of the "German Week" of Etiopia-Witten and runs workshops for students.

christiane.kost@rub.de
Helga Mönks (advisory board member)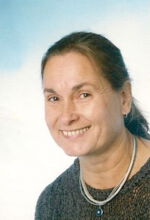 Founding member, member of the board since 2012. Since 2019 member of the Advisory Board of Etiopia-Witten. She is a former school teacher and retired since July 2009. Within Etiopia Witten e.V. she is an important bearer of the working group "Etiopia Education". Her main tasks so far are establishing contacts to schools in the region of Mekelle and the initiation of the project "Ethiopia-Schoolbag".
Besides being active for Etiopia Witten Helga is also a volunteer worker for various other institutions, such as Circle of Friends Cusco in Dortmund or as a reading mentor in Sprockhövel.
Please click on the names for more details. Click on pictures to enlarge.