Guideline Based Rheumatic Heart Disease Prevention and Control Program Eastern Zone of Tigray, Ethiopia (prevRHD).
A joint project from Etiopia-Witten - Germany,
Mekelle University, Tigray Health Bureau and Tigray Education Bureau - Ethiopia

Key point: Bring penicillin to the children whith strep-throat
The cardiologist Dr.Gabriele Wehr - Stuttart/Germany, member of Etiopia-Witten assiociation Germany, launched in March 2017 during her stay in Addis Abeba and Mekelle a comprehensive pilot project for Ethiopia for erasing Rheumatic Heart disease. It is in Ethiopia 100% fatal. The origin of the disease is a bacterial sore throat infection, which is easily treatable with penicillin. The project will follow the example of the successful example of the country Cuba.
The core of our program is improvement of the knowledge of health professionals about RHD and the treatment with penicillin. A second point is raising the awareness of the parents, the teachers and the public with the aim, that all ill children will get appropriate treatment.
The cardiologists and pediatricians from Ayder Referral Hospital of Mekelle University in Ethiopia, beeing alredy acitve in scientifically monitoring rheumatic heart disease in the region, where enthusiastic to partner strongly the pilot project and the following expansion to the prevRHD program. The Cardiology Unit the Department of Internal Medicine became the organisational headquater of this program.
The head of the Ethiopian WHO branch in Addis Abeba confirmed the fact, that RHD is on a very high position on the agenda of the WHO in Geneva. He offered to support the primary prevention project for rheumatic heart disease within the possibilities of the WHO.
The Federal Ministry of Health (FMOH) is also stongly involved in the RHD primary and secondary prevention programs within the already launched programs to diagnose and treat non communicable diseases in Ethiopia. The FMOH responsible support this project and recommends to continue the close cooperation with the already started program on RHD by the Department of Cardiology in Black Lion Hospital in Addis Abeba.
The PrevRHD Team
The Ethiopian Team:
Mekelle University, College of Health Sciences, Mekelle, Ethiopia

Assoc. Prof. Dr. Abraha Hailu Weldergerima MD, Cardiologist,
Department of Internal Medicine,
Head of the Cardiology unit
Email: Dr.Abraha Hailu Weldergermina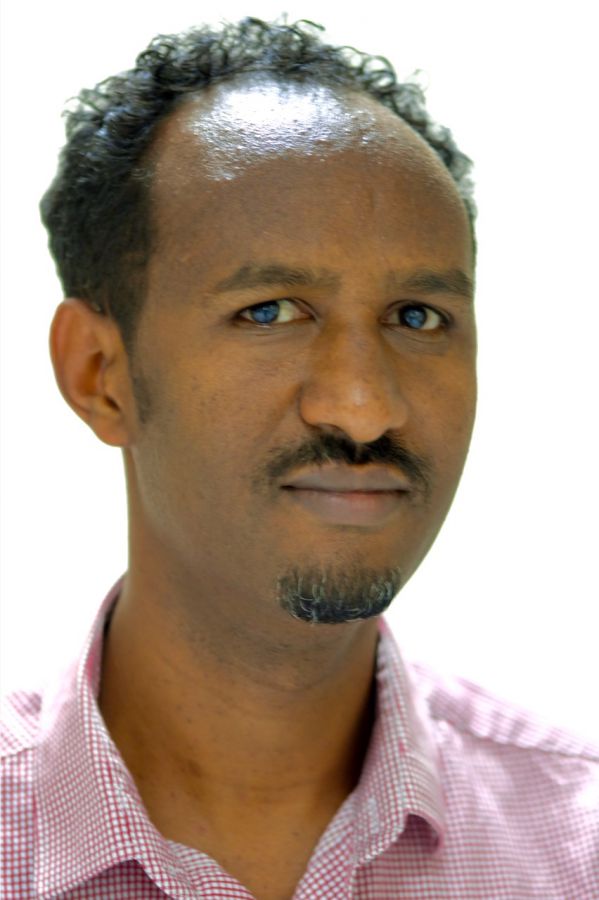 Assist Prof. Dr.Hagazi Tesfay MD, Cardiologist,
Department of Internal Medicine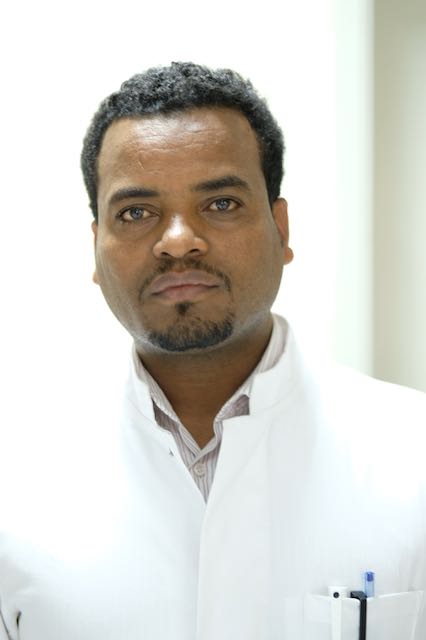 Assist Prof. Dr. Samuel Birhane MD, Cardiologist,
Department of Internal Medicine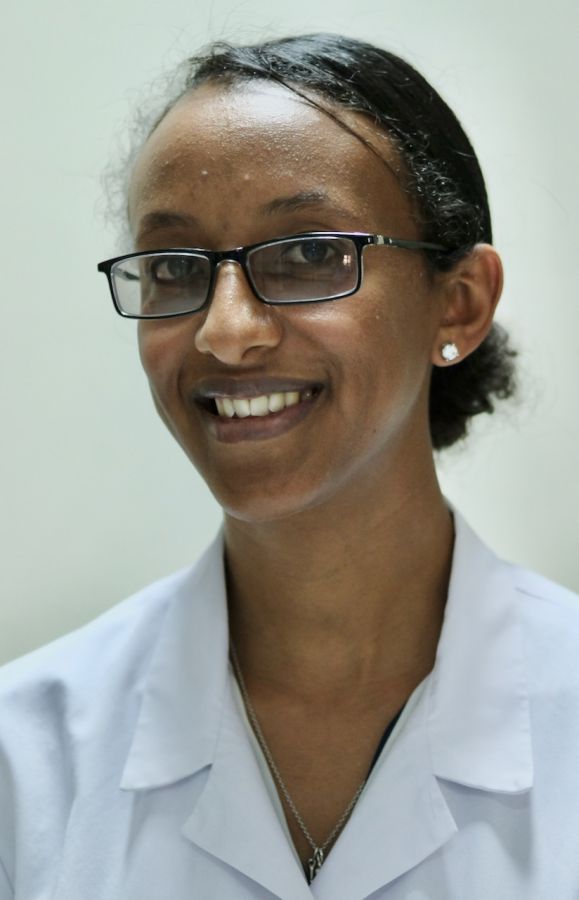 Assist. Prof. Dr. Marta Yemane MD, Pediatrician
Department of Pediatrics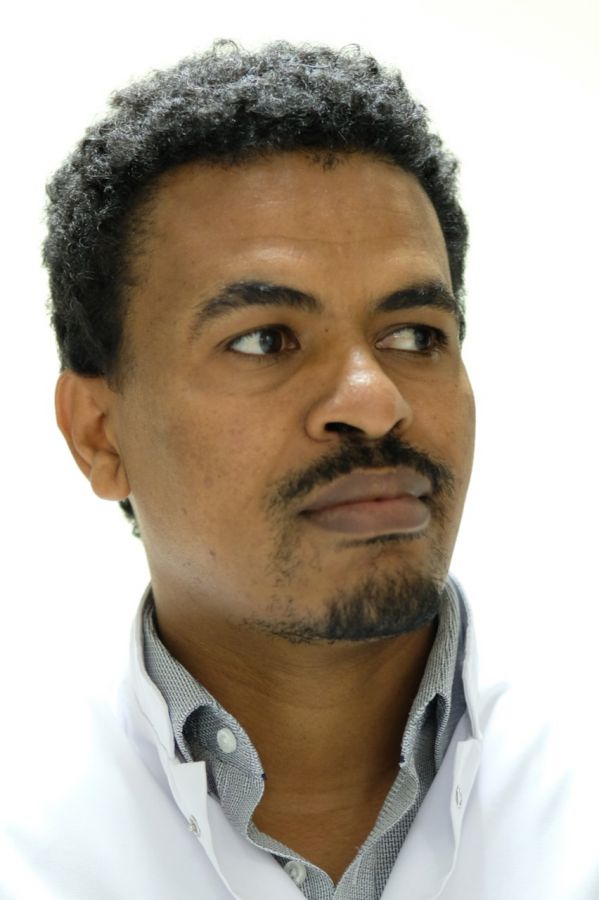 Assist. Prof. Dr. Mulugeta Naizgi MD, Pediatrician,
Department of Pediatrics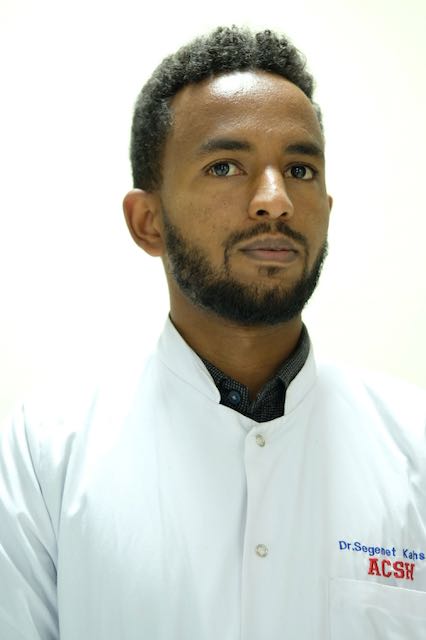 Segenet Kahsay, GP,
Organizer prevRHD program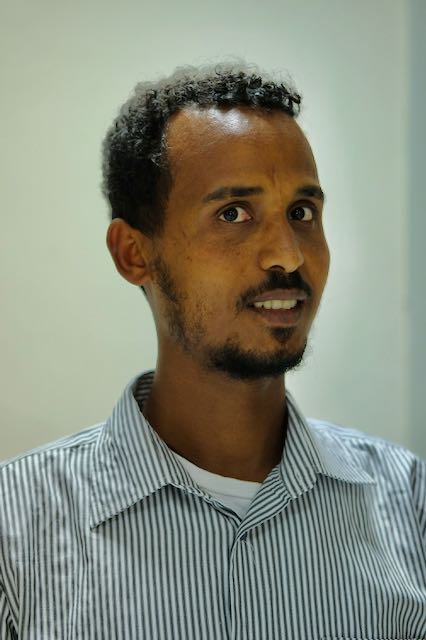 Getachew Fentaw, Nurse,
Organizer prevRHD Program
Tesfay Gebregziabher,
School of Public Health, Mekelle University
Haftom Temesgen,
School of Public Health, Mekelle University
The German team of Etiopia-Witten e.V.
Development Aid Association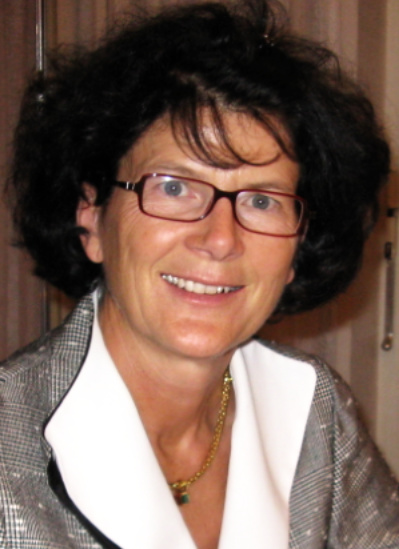 Dr. Gabriele Wehr MD, retired cardiologist,
former senior interventional cardiologist of
Robert Bosch hospital Stuttgart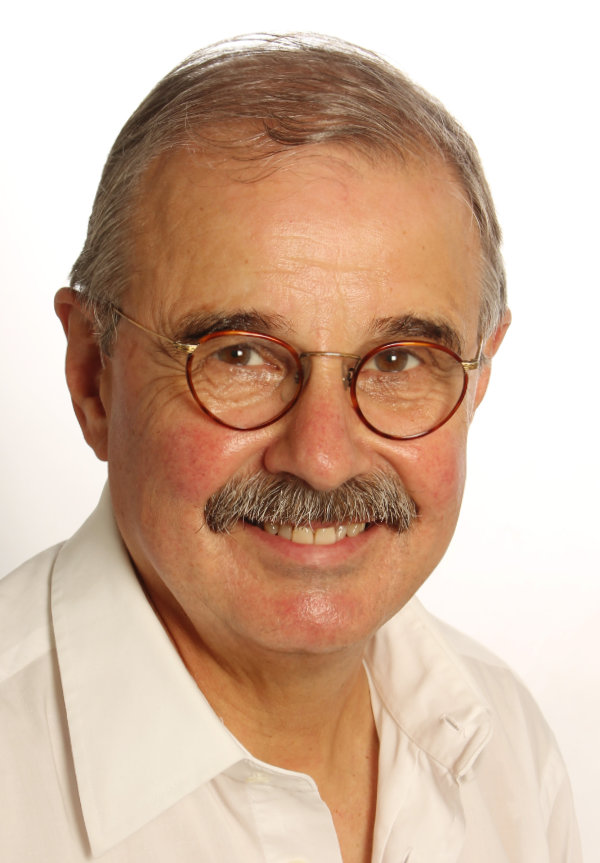 Dr. Christian Leuner MD, retired Cardiologist
former senior interventional cardiologist of
Klinikum Bielefeld - Mitte
The prevRHD Program
The Rheumatic Heart Disease
Rheumatic heart disease (RHD) is a serious sequelae of an infectious disease (Strep throat / Tonsillopharyngitis with Group Streptococci = GAS) in childhood and adolescence. There are currently worldwide 33 million people suffering from RHD and 270,000 premature death each year. The average life expectancy is 26 years. In Ethiopia RHD is the leading cardiovascular disease. The incidence of RHD is among school children 19 per 1,000 children and in rural areas 56 per 1,000 inhabitants. We have to expect up to 25,000 patients with RHD in Trigray eastern Zone.
The basic streptococcal tonsillopharyngitis is 100% curable with penicillin (primary prevention). If this treatment is not performed, acute rheumatic fever, a highly febrile inflammation of the heart and the joints, may develop as a consequence. If the child is not registered at this stage in a secondary prevention program (penicillin treatment every 4 weeks), recurrent GAS infections and smoldering inflammation of the heart lead to fully developed RHD with damage to the entire heart, especially damage to the heart valves and heart failure. At this stage the RHD is 100% fatal. Heart operations may reduce the symptoms of RHD.
Lack of awareness of the adults to the children's disease and a low socio-economic status with overcrowding, poor hygienic conditions, illiteracy are leading causes of RHD.
What to do?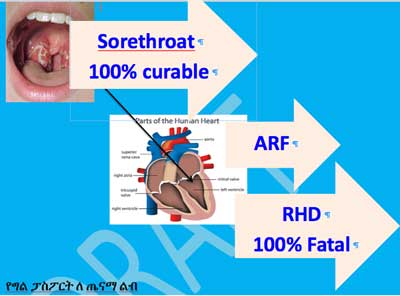 The PrevRHD Program
Raise public awareness


Raise expertise of the health care professionals

Register patients with RHD nationwide

Improve adherence of patients to secondary prevention

Cooperate with the important social active groups in the society and the information media

Actions done in the pilot project
In 3 Woredas: Wukro town, KilteAwlaelo and Atsbi-Wonberta with an estimated population of 50,208, 112,788 and 110,546 respectively
With 2 General Hospitals, 11 health centers, 36 health posts
Raise public awareness:
Sensitization to authorities: 46 authorities of Wukro (Bild)
Informations in schools, morning ceremonies: 1000 students (Bild) + 50 teachers
Teachers training: 16 teachers + 16 senior students for minimedia and school clubs
Focused group discussions: 1000 adults (Bild)
Data collection of public awareness basic assessment: 1298 households interviewed (Bild)
Raise expertise of health care professionals
Training 3 day course for doctors, health officers and nurses: 76 persons
Training 1 day course for Health extension worker: 75 HEW
Supportive supervision with case reports: to 11 health centers, 15 (of 36) Health posts, 2 General hospitals
Results:
Registration of patients with RHD in the nationwide register
What to do in the main program?
Improve training of health care professionals

Implement RHD in teachers training

Add the component "RHD" to the duty of HEW

Cooperations with "Save the Children"

Develop a Blue print of the program

Active case finding with echo screening programs

Pilot project supported by Klinikpartnerschaften
Our Activities
Report on Sensitization workshop on the Guideline based prevention of Rheumatic heart Disease in Eastern Zone of Tigray - in Wukro area held in October 30, 2017
The agenda of the meeting was to discuss about the initiation of the Guideline based prevention and control of Rheumatic Heart Disease: A project in Eastern zone of Tigray, Ethiopia & pilot project in Wukro area (PrevRHD project)
There were three presentations and there was a final discussion with the participants
The current situation of Heart Disease in Ethiopia (Dr Abraha Hailu)
From Pharyngitis / Tonsillitis to Rheumatic Heart Disease (Dr Mulugeta Naizgi)
About the PrevRHD Project (Dr Abraha Hailu)
Discussion with participants (Dr Tesfay G.her)
The meeting started at 9:00am after Dr Yonas (the coordinator of the Prev RHD project) introduced Dr Mehari (a general practitioner and the medical Director of Wukro hospital) to give a welcoming address.
Dr Mehari welcomed the participants on behalf of the Tigray Regional Health Bureau (TRHB) and the Wukro Hospital/Health office and he emphasized that the zone and particularly kiliteawlaelo wereda need to work in close collaboration with those engaged in this project and will own the duties and responsibilities given and thanked Mekelle University-College of Health Sciences and its collaborators from Germany for taking the initiative to tackle this easily preventable but devastating disease.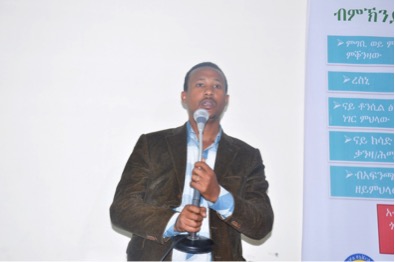 Dr Mehari delivering the opening remark
Dr Abraha, internist and cardiologist, gave his first presentation on the current situation of heart disease in Ethiopia. He stated the global burden of Diseases in terms of mortality being dominated by Non Communicable Diseases (NCDs); the leading being Cardiovascular Diseases (CVDs) followed by Cancer, chronic respiratory conditions and Diabetes. NCDs kill 38 million people each year. 75-80% of NCD deaths (28 million) occur in low- and middle-income countries. CVDs caThe project slideuse 17.5 million deaths annually, followed by cancers (8.2 million), respiratory diseases (4 million), and diabetes (1.5 million).
Dr Abraha added that a global goal has been established to reduce premature deaths due to non-communicable diseases (NCDs) by 25 per cent by 2025. Because CVD accounts for the majority of the global NCD burden, CVD and its risk factors must be adequately addressed in order to achieve this global goal. 80% of CVDs are preventable and Rheumatic heart disease (RHD) is potentially 100% preventable but fatal disease. He presented the different hospital based studies in Ethiopia regarding the prevalence of CVD and the leading cause of CVDs is RHD, Congenital, Hypertensive Heart Disease, Ischemic Heart Disease, Cardiomyopathy and others. He also added that community based studies are scarce in Ethiopia on CVD and the most recent data on school children show that RHD is as high as 1.8% in prevalence and a study done in a community aged 6-25 showed that the prevalence of RHD is as high as 5.7%. He concluded with the remark that MU-CHS is doing its best with its partners nationally and internationally to prevent the acquisition of this disease and also to treat those affected.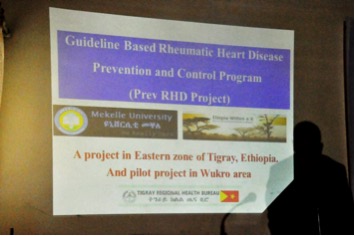 The Prev RHD Project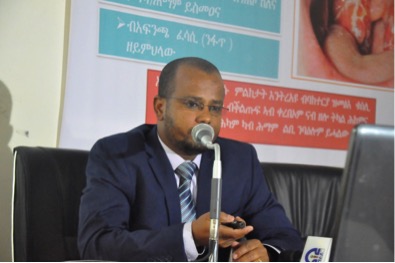 Dr. Abraha Hailu Weldergerima
The next speaker was Dr Mulugeta Naizgi, a pediatrician interested in infectious diseases about link between tonsillitis and heart Disease (RHD).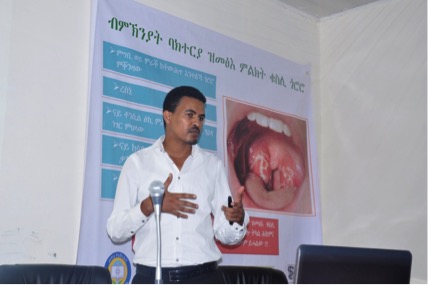 He discussed that the risk factors for acquiring tonsillopharyngitis are derived from poverty/poor socioeconomic status/poor hygiene etc. and the etiology is a bacteria called Group A Beta hemolytic streptococcus (GABS). He emphasized that the symptoms and signs of tonsillitis which are painful swallowing, fever could be easily picked if timely treated the bridge between heat disease and tonsillitis will be broken and hence stop heart disease. The treatment of tonsillitis is easy with a single injection of Benzathine penicillin (primary prevention). This important drug can also help in the prevention of the recurrence of acute rheumatic fever and progression of established heart disease (secondary prevention).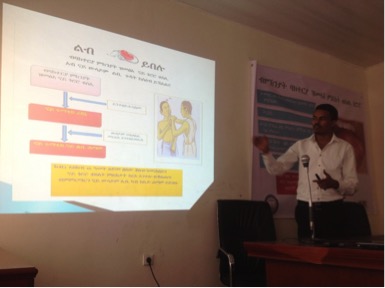 Dr Mulugeta presenting the Link between tonsillitis and RHD
After the tea break Dr Abraha gave his talk about the PrevRHD project. He mentioned that currently RHd affects over 33 million people worldwide and most commonly affects women, children and adolescents living in conditions of poverty and overcrowding; kills over 300,000 people every year, even though it is preventable.
He stressed on the fact that RHD is a lifelong condition, which can be fatal if good access to care and appropriate treatment are not available
Dr Abraha added that the average age of those affected with RHd in Ethiopia at 26years. He explained the possible sites of intervention in the prevetion of RHD and which is best for us as a nation to tackle RHD?
Primordial prevention
Primary prevention
Secondary prevention
Tertiary Prevention (valvuloplasty, open heart surgery, follow up and treatment of complications
He mentioned the seven key actions endorsed by African Union to tackle RHD among which are establishment of RHD registry, availing penicillin, improve the access to reproductive health services for women with RHD, decentralize expertise, and offering tertiary care for those in need. As a nation Ethiopia should bring penicillin to children, register them and take the experiences of other countries like Cuba and Nepal to materialize this.
Dr Abraha stated that as a nation, the Federal Ministry of Health has done the following so far
Endorsed the PASCAR /AU seven key actions and is working with global partners
Included RF/RHD in the package of NCD control program
Finalized a national protocol on RF/RHD prevention and treatment guidelines
Developed a teaching material to the mid and low level health professionals
Developed a National RF/RHD REGISTRY
Showing a strong commitment to include the prevention strategy in SCHOOL HEALTH program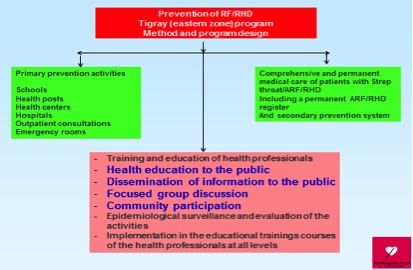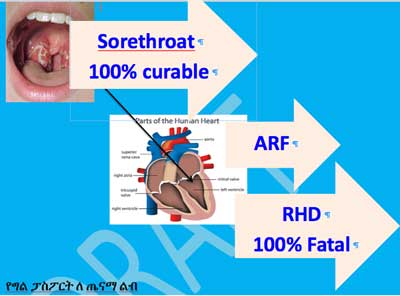 He then finally put on how the Prev RHd program will function, what challenges it will face and what opportunities it has now and for the future.
Subsequently, there was a panel discussion lead by Dr Tesfay G.her, PhD; assistant professor of public health.
Dr Tesfay reminded the audience by summarizing what was presented by the two speakers and he made the remark that we say "a mother should never die while giving a life/birth" we should also think the same way to other segment of the community ie for example we should not allow the mother's kid to die. He then opened the floor for discussion.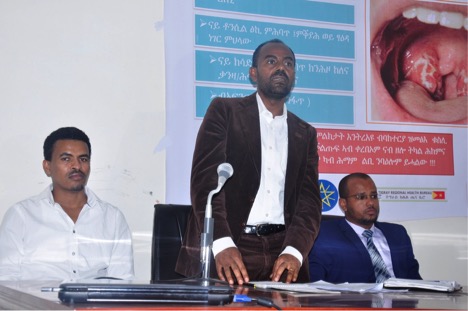 Dr. Tesfay opening the floor for discussion
Teacher Yilma from Wukro preparatory school thanked the organizers and organizations specially Mekelle University for doing this as part of its community service duty and responsibility in this project and said that feels lucky that the Wukro area is selected to be the pilot project site. He said that as a teacher he is happy to know the diseases symptoms and signs and will contribute to the dissemination of this information to the community and his students. He said he was stunned to learn that this easily preventable disease is very expensive and unaffordable by Ethiopians. Finally he made the remark that the town's sanitation should also be invited to this kind of forums and listen the link of an unclean environment and RHD.
Teachers Hailemariam and G.selassie said that now we have hear this and what is expected from us? It is to teach our students on tonsillitis and raise their awareness! How? Using this opportunity on the progress made by mekelle university, use minimedia at school, pamphlets, Mekelle university FM radio broadcast every Saturday etc…
Lema G.tsadik from Baeta Health center said that even if as health professionals heard about RHD we never really worked as if it was our daily job and we need to address the issue of implementation in practical terms. This disease is 100% preventable but 100% fatal as has been said today and so we have a good reason to work on harder on it.
A representative of the youth association of Wukro area Mr G.michael said that it is for the very first time that he is listening and has deeply understood that UNCLEANLINESS leading to TONSILLITIS ends up in SEVERE DISABLING DISSEASE. He recommended mobilization of different sectors under his association and similar other organizations, institutions and improve the awareness as the main problem is AWARENESS, otherwise is DOABLE.
Aba Fisseha, a religious leader, said that even if he has been to different meetings on health issues and others, I have never heard about the fact that tonsillitis leads to heart disease before. We have heard here also that tonsillitis is caused by bacteria and is easily treatable but our community believes that tonsillitis is caused by spitting on FIRE or spitting on toilet or is due to evil eye etc . He also asked a question on why tonsillitis is seasonal and was adressed later.
Melakegenet Abraha also forwarded his opinion by saying that tonsillitis and its complications have been neglected while it has been very easily preventable. He added that the CHURCH can have a POSITIVE impact as it can get a huge number of population in a single day and the church can be a way to disseminate this information in a day to a big portion of the commnuity.
Representative from women's affairs Mrs Fireweini emphasized on changing the society thinking/beliefs/practices through educations (for example some mothers say tonsillitis is related to the disappearance of a moon). She also added health facilities should be ready to address the public's demands.
Sr Selas from Kelete awlaelo health administration/office said that this is a very good initiative and we need to have a common understanding. I hope trainings will follow for the health professionals at all levels including the health extension workers (HEWs). She raised the issue of HEWs giving gentamicin in health posts, so why not they give benzathine penicillin?
There were many others who gave their reflections about similar experience before at school during the screening programs, about the prevention policy of our nation and the eauty of thi project and the fact that health professionals should practice early detection, treatment and referral of cases with RF/RHD.
Again Dr Mehari said that we have all the evidences and hence now we need to go to ACTION by collaborating with TRHB, MUCHS and Etiopia-Witten. We can work together in awareness creation by different methods like in catchment meetings, public conferences etc.
As an end to the discussion part reflections were given from the panel and the recommendations on how to proceed for future to make this project a success were noted. Subsequently, Dr Temesgen the pediatric cardiologist also addressed the audience to be part of this initiative and support it.
A closing remark was made by Dr Tsegay, the vice medical director of Ayder Comprehensive specialized hospital. He said that prevention is the best policy and is doable with little cost as is done in Cuba. Our region has received different awards in conservation and in tobacco control which indirectly and directly affect the hearts health respectively.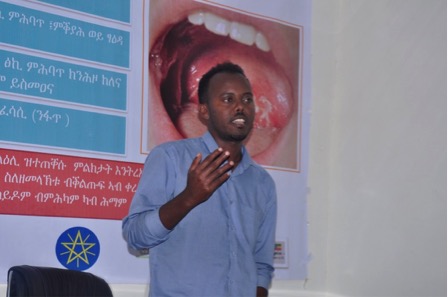 Dr Tsegay Delivering the closing speech
At the end participants gave an interview to the journalists from Tigray Television and Mekelle FM 104.4, to be broadcast to the community at large.
Author: Dr. Abraha Hailu Weldgerima Mekelle University - Ayder Referral Hospital
German Week 2018 Update prevRHD Programm
Updating Report on Guideline Based Rheumatic Heart Disease Prevention and Control Program in Eastern Zone of Tigray, Ethiopia (prevRHD)
A joint program of Ethiopia-Witten Association – Germany, Ayder Hospital - Mekelle University, Tigray Health Bureau Tigray Education Bureau – Ethiopia
Update March 2018 (Etiopia-Witten German Week in Mekelle)
Author:
Dr. Gabriele Wehr MD, Cardiologist.
Member of Ethiopia-Witten Association Germany
The aim of prevRHD-program is primary and secondary prevention of Rheumatic heart disease. The measures are: raise the expertise of the health care professionals, raise the awareness of the public and bring the penicillin to the Children.
Initiative Klinkpartnerschaften funds the pilot project in Wukro area.
Before we could start with the project a lot of preliminary work had to be done: we produced a pamphlet illustrated with images for the children, booklets with a short description of the disease and posters. Additionally special passports for every child who had Acute Rheumatic Fever, to document the monthly penicillin injection in the secondary prophylaxis.
Some of these printed matters were produced in cooperation with the WHO and some with the cooperation with the Ethiopian Federal Ministry of Health. All these were printed in Germany and transported to Ethiopia.
The pilot project started in October 2017 with the Sensitization Meeting in the town of Wukro. Forty-eight local authorities had come, including, the town mayor, priests, teachers, heads of the woman's association and others. They were informed about the program to prevent Rheumatic Heart Disease (RHD). All were very interested to be involved and welcomed the program.
The first step of the pilot project was: A three day teaching course on Rto the health professionals of Wukro area (37 doctors, health officers and nurses of the Wukro hospitals and health centers) in December 2017. All instructors were seniors of the Ayder hospital: The program director Dr. Abraha Hailu Weldergerima, Cardiologist; Dr. Temesgen Tsega the Vice-director, Pediatrician, Dr. Hagasi Tesfay, Cardiologist; Dr Mulugeta Naizgi, specialist for Infectious diseases, Pediatrician; Dr. Hagos Kahsay, Internist.
There was a great interest of the participants in this program. Focal persons as disease managers in each health institution have been elected. They were introduced in the nation wide register system for Rheumatic Heart Disease. Dr. Christian Leuner, Cardiologist from Etiopia-Witten prepared the curriculums for the teaching of the local health professionals. The results of evaluation tests during the three day teaching course to evaluate the knowledge were increasing from 56% correct answers to 78% with a variation range from 40% to 90%.
This was followed by a one-day course for Health Extension Workers (HEW) detecting and handling children with Streptococci induced throat disease, rheumatic fever or advanced rheumatic heart disease. They are nearly all females living in the villages. In addition to their daily field work, they work like a basic nurse, health consultant, social worker. who are visiting the families and the schools on a regular basis. Dr Yonas Berhane, the General Practitioner of the program and Getachew Fentaw, the male nurse of the program instructed this course. Again, a big interest of the participants in the disease and the program was obvious.
The aims of this course are, that the HEW provide information to families, teachers and students in the schools about the linkage of Streptococcal pharyngitis and RHD and that RHD is easily preventable with a single intra-muscular injection of Benzathine-Penicillin. The HEW shall inform the rural community on a regular basis about infectious diseases, tuberculosis, family planning and others, RHD will be included future in this information system. These health extension workers are very important to disseminate these information and to identify the diseased children, because they are the closest to the public, the families and the children.
The next steps in the pilot study are visits in schools to disseminate the information to the students and the teachers.
Here focused group discussions will be performed. This is an open information session to the public. Main point: Streptococcal induced throat disease (strep throat) may cause a fatal heart disease, which is at the time of strep pharyngitis easily preventable. During the discussion, numerous causes for the development and traditional measures for treating strep throat were described, such as: what are you taking about hygiene, we are short of water!! Or an elderly woman insisted that uvectomie is most important to treat pharyngitis. Finally the argument, that we have good drugs against pharyngitis convinced her, hopefully.
In the following half year more teachings and information sessions are planned with the money of Initiative Klinkpartnerschaften.
A public basic awareness assessment to 1300 households was done. The statistical evaluation is ready just now. The results show, that the majority are illiterate, a small part of the questioned persons knows the reason for sore throat as the consequence of viruses or bacteria, the majority believes that it is the result from smoke, dust, spitting in the fire or other. Only a group below 10% knows about the relation between sore throat and heart disease and the effect of Penicillin. About the half of the families bring a child with sore throat to the traditional healer and a big majority of children gets uvectomie in very early childhood in the believe sore throat would be prevented by this. A tradition that is common in many African countries.
During the German week 2018 of Etiopia-Witten Association in Mekelle -Ethiopia we had the possibility to meet the head of Tigray Health Bureau (TRBH), the Head of Tigray Education Bureau (TRBE) and to Dr. Amanuel Haile, Chief Executive Director Ayder Hospital - Mekelle University to enforce the Memorandum of Understanding for the prevRHD program. The main points: the TRBH supplies the penicillin, the University pays 50% of a car and employs the prevRHD General Practitioner and two prevRHD nurses, TRBE implement the program in the official Tigray school health program and all together implement the prevRHD knowledge into the trainings of all health professionals and teachers. We are confident that these four partners will sign the new memorandum of Cooperation.
The next step is the evaluation of the results of the pilot project in Wukro area. Then we implement the program in eastern zone of Tigray with 9 Woredas, which is planned for the next 3 years. For this big task another fund and collaboration of all partners is needed.
End